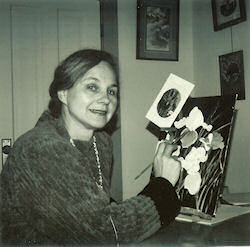 Lita Mattila Stucky has been both an artist and a Fine Arts and Arts & Crafts instructor for most of her adult life. She has owned & operated Studio Art Center in Yankton for going on 20 years. Shown in this gallery section are some of the paintings she has created over the years.
Her family roots on both parents sides originated in Finland. This has given her a great appreciation of country landscapes, flowers and wildlife. Here you see her great love of nature reflected on canvas. She works in and teaches all mediums: colored pencil, pastel, acrylic painting, watercolors and oils.
Lita spent eleven years of her life in Alaska and Canada; five years in Montana and eleven years in far Northern California; plus early childhood being raised on a farm in Oregon. Like many artists, she derives inspiration for her paintings from travels throughout the Pacific Northwest and the Midwest, including upper Peninsula Michigan where both sets of grandparents settled as Finish immigrants at the turn of the century.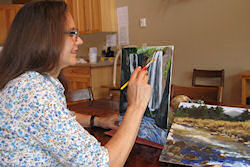 Lita now resides with husband Mark, near the banks of the Missouri River in Yankton, South Dakota, where she has been teaching and painting at her Studio Art Center since 1999. They both love to vacation in the Black Hills, Spearfish Canyon and Custer State Park - a great source of inspiration for her South Dakota paintings!
The artwork below is a representation of Lita's abilities. If you see anything you like, or you have a photograph of a scene you love, Lita can be commissioned to do a painting. She also sells prints and notecards. She can be reached by calling (605) 665-7367 or (605) 661-0562.
Enjoy some of her work below.
Blue Jay

Acrylic

Mourning Cloak Moth

Acrylic

Calico in Flowers

Acrylic

Gardenia

Watercolor

A Knights Valor

Acrylic

Garden Habitat

Acrylic

After the Rain, Peony and Echinaecia

Acrylic

Monarch Butterfly

Acrylic

Sacajawea, Strength of Motherhood

Acrylic

Timberwolf

Oil

Evening Song

Oil

Winter Wonderland

Oil on Linen

Grandma's Joy

Oils

Hummingbird Habitat

Acrylic

White Springs, Colorado

Acrylic

Piney Creek

Oil on Linen

Emergence

Pastel

Yankton Shoreline

Acrylic

Spring Countryside

Acrylic

Hidden Treasure

Acrylic

River View

Oil

Pestimmon

Watercolor

Poppy's

Oil

Iris Rhapsody

Acrylic

Wolf - Mother & Pup

Oils

Roughlock Falls - Spearfish Canyon

Acrylic

Autumn Wolf

Oil

Glacier National Park

Oil

Solitude

Acrylic

Daybreak

Acrylic

Spearfish Creek

Acrylic

Elk Song

Oil

Mother Grizzley & Cub

Acrylic