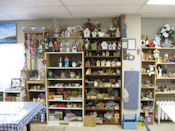 Art and Craft Business Inventory For Sale - $11,000+ Value
For an artistically, creative, fun-loving person, the 19+ years of Fine Arts and Arts & Crafts Inventory from Studio Art Center are for sale. Because the business of teaching an arts & crafts program, or running a daycare, can be done anywhere, the business inventory can be moved to any location.
This is a unique business opportunity available to the right creative person(s). The sale of this business includes a tremendous inventory of Fine Arts and Arts and Crafts supplies, including, but not limited to: Art papers, colored pencils, markers, pastels, acrylic paints, oil paints and brushes. Optional for purchase are numerous shelving units and drawers, tables, chairs, display units, 100's of picture frames, many easels and the art photographs that can be used to create website material.
There are hundreds of reference pictures that students may refer to in their creating of compositions in mediums of pencil, marker, pastels and paint. The project materials and samples of made-up projects will enable the buyer to begin setting up and running a program immediately, without a need to acquire these items. Several thousand dollars of specific craft project materials and made up samples can be included, though these are not specifically itemized. The photographs themselves, will display this great wealth of inventory.
Please Note: Lita is selling her entire inventory at a fraction of the original purchase value.
Studio Art Center began in January 1999, now operating for going on 20 years in Yankton, SD. The inventory and training you will receive can be applied to setting up your own Fine Arts program, Arts and Crafts program, Art focused Day Care, Art Therapy program or any combination of these. Lita and Mark Stucky have been doing elder care for Marks parents and have a desire to sell the business by the end of 2018.
The photos below show you some of what the supplies and furnishings include. For more information, call Lita or Mark Stucky at 605-661-0562 or 605-665-7327 to leave a message. Please no texts.
This business is completely transferable to any location. If buyer is to operate the business in Yankton, an extensive mailing list is included.
*Click on any of the images below to view both Arts & Fine Arts Supplies.