Saturday Workshop Schedule
This is an expanded workshop for arts and crafts projects. Students have many different projects they can create in the day. Take a look at the project options elsewhere on website for various craft project ideas. There is a strong emphasis on drawing and painting during the workshop. Students must provide own canvas if they choose drawing and painting.
All of the Saturday Workshops are between 10am and 3pm on select Saturday's and students can sign up for any portion of that time period. Afternoon snacks and juice are provided.
From Fantasy Art to Creative Crafts to Fine Arts & Painting, numerous choices will please 1st graders to teens.
Please Note: Students who sign up directly thru Studio Art Center get excused absences when you notify Lita Stucky that you or your child will not be able to attend a given class ahead of time. When paying for your Saturday Workshop, please mail checks to 511 Mulberry St., Yankton.
Please keep in mind that all of our classes are kept small, 3 to 6 students for fine arts classes or Arts & Crafts. While most Art supplies are included in the cost of our classes, painting students provide their own canvas boards (at cost of approximately $1-$2 each), plus some of the larger more pricey craft items to paint have a small charge also (generally, 50 cents to $5). All paints, brushes, water bins, paper, art mediums, and most craft supplies are provided by the studio and are included in the tuition cost.
To sign-up or inquire into any of our Programs, please call 661-0562 or 665-7367.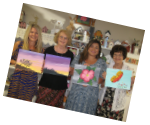 Workshops aren't just for kids!
Click to see closeup of picture, then Call to schedule your workshop!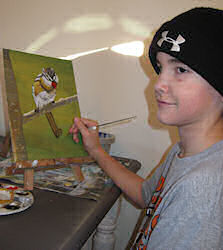 Click Here to View our
new Studio Setup!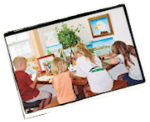 Studio Art Center classes are kept small with lots of one on one attention!