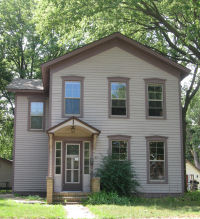 Established in January of 1999, Studio Art Center of Yankton, has room for exhibits, as well as for teaching many ongoing art classes throughout the year.
Besides giving art lessons, Lita Matilla Stucky is a published author and illustrator. Lita is currently working on a series of art books that teach art to all ages and levels of students. Subjects covered range from drawing to colored pencils, pastels, painting in all mediums, as well as illustration, fashion art, decorative painting and crafts applications.
Having taught art for her entire life, Lita believes in the incredible creativity inside each of us, which lies sometimes dormant-until it is brought to life through a series of art lessons. "Everyone's an artist who expresses from their heart and soul something that has meaning to them. In this light - Children are natural artists!...And adults just need to rekindle the flame!"
Studio Art Center to Resume Classes
Studio Art Center will begin a new program of Art lessons in February, 2018. Call 605-661-0562 or 605-665-7367 for more information.
Students may sign up at anytime between February and May for the school year Arts Program. Phone calls for sign-ups can be made by calling 661-0562 or 665-7367.
Classes & Schedules
Saturday Workshops, during the Summer Schedule (June thru July), will be held from 10 a.m. to 3 p.m. on select Saturdays. These Workshops includes drawing, painting & crafts and is open to students age 6 thru teens and adults.
Lita is in search of someone interested in purchasing all of her Fine Arts & Crafts materials and receiving one month of training. This business can be operating in any location. Lita will include training a new owner or co-owners as part of her sale price.
Anyone with an interest in managing a full scale year round Creative Arts program may contact Lita Stucky at 605-661-0562 or 605-665-7367 and should take a look at our Business Sale page HERE.